Who says Kiwis can't fly?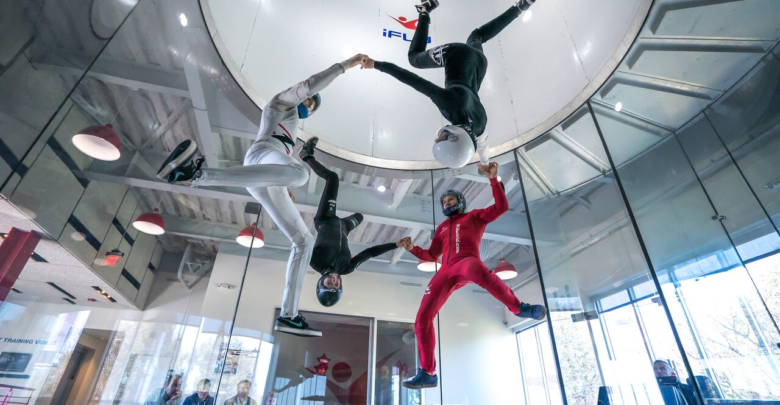 iFLY, a global indoor skydiving and body flight experience, opens in New Zealand this month bringing Kiwis the thrill of freefall, without a plane or parachute in sight.
More than nine million aspiring flight junkies around the globe have experienced the adrenaline rush of tunnel flight in iFLY's unique glass wind chamber, airborne in winds up to 270kph.
The $15 million tunnel structure with its 4.5-metre high glass flight chamber and wall-to-wall cushion of air has controllable speeds to suit adults and children and is operated by fully trained instructors, all experienced bodyflight athletes.
Approximately 3.6m in diameter with super-strong stainless steel mesh at your feet, iFLY has an exemplary safety record, making it an interactive adventure suitable for all ages, from kids to grandparents.
iFLY Queenstown is a joint project between Sky Venture International, which manufactures iFLY wind tunnels, and local couple Emma and Gary Beyer. The Beyers have had a long association with the international skydiving community; Emma represented Britain and won the 2006 World Championships and Gary represented the USA and won the World Championships in 1999.
"Tunnel flight is one of the most blood-pumping and fast-growing sports in the world, with its own global leagues and events. Launching iFLY in New Zealand gives Kiwis a massive opportunity to jump on board with skydiving or tunnel flight as we now have a training facility here. Our hope is that we'll develop a national bodyflight team and compete internationally. We know the sport will take off, literally," says Managing Director, Emma.
iFLY offers a progression programme for frequent flyers to hone their skills, through bulk-buying time in the flight chamber.
The adrenalin venture is located in a new, purpose-built building with an on site café and bar on Brecon Street in central Queenstown.
Admission starts at $149.00 for adults and includes training, full safety equipment and two flights.