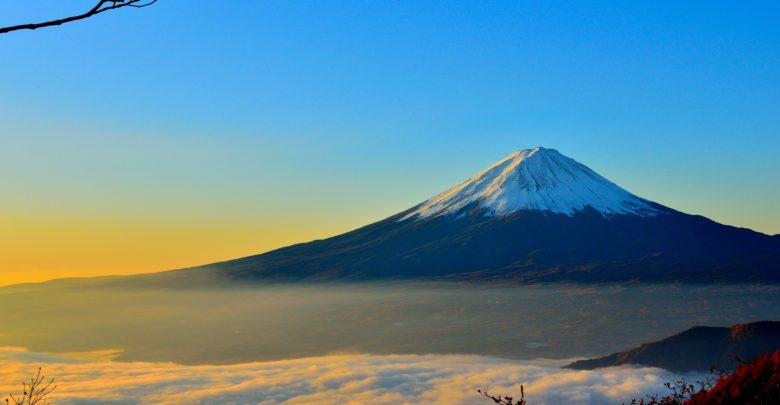 Climbing up to the very top of Mt Fuji in Japan to sit and watch the sunrise sounded like an amazing dream. Unfortunately it ended up being somewhat of a nightmare!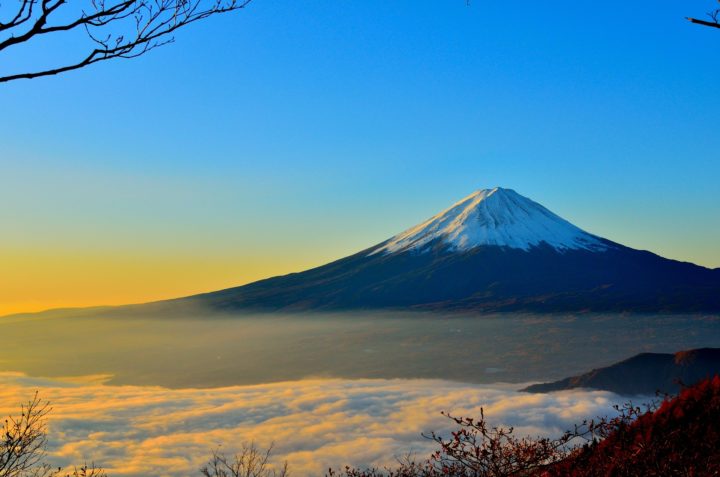 I originally planned to climb the mountain on my second night in Japan but a huge typhoon (the biggest in 25 years) had hit the main island and had knocked trees over the roads which made it inaccessible. It was also near the end of the climbing season so my window of opportunity was very small. There was only one night that I could do it and the conditions weren't looking promising.
The forecast for the top of the mountain had 50 knot gusts (92km/h or 57m/h). When I heard this it did make me pause, I paced around the room a bit and thought about it before deciding to go ahead. I packed my bag filled with warm clothes, a wind breaker jacket and pants, a couple of litres of water and nuts and fruit. It took me 3 trains and a bus to get to the Subaru 5th station which was already up part of the mountain and the most popular starting point of the climb.
During the train ride I met a young German couple who were also making the climb as well as a couple of young Japanese students who had hitchhiked to the train, all were really fun to chat with and we were all very excited. I also met an American guy who was doing the climb to celebrate his 50th birthday, we chatted during the bus ride and he asked me if he could stick with me during the climb, of course I was happy to.
The moment we got off the bus it was very cold and very, very windy. We all quickly walked towards the information centre where others had already gathered. There were rumours that during the day someone had died on the mountain, some had been taken to hospital and most were being turned around at the 8th station near the top. I spoke to a guy working in the information centre who said that the conditions were very dangerous at the top of the mountain and that there was little chance that we would get to see the sunrise as humidity was at 100%. I was prepared for the wind but not for any rain. I could just hope that it wouldn't be too bad.
Just before starting the climb a group of uni exchange students from around Europe asked if they could join up with me and my American friend, of course we were happy for them to. One of the girls was asking a lot of questions whether or not its safe to go up, all I could say is that if it she felt it was too dangerous to stop and go into one of the huts up the mountain. They were well established huts that climbers could rest in at a price. Apparently if you wanted to stand in the toilets to rest you also had to pay the managers of these huts!
We all started the hike at around 9:30pm which would give us plenty of time to get to the top for sunrise. There wasn't any rain and the wind actually felt like it had died off. Everyone was in good spirits, my Petzl Nao headlamp was illuminating the trail ahead of us and we all started taking off layers early on. It seemed like a good sign.
Not long into the climb I could tell that my American friend was already starting to struggle, he was breathing quite heavily and falling behind, I stayed with him while the uni guys enthusiastically charged ahead. He wasn't ta;ling too much but I could tell he was already starting to doubt himself.
There are around a dozen or so huts up the mountain, after we passed a couple of them the rain was starting to set in and the wind was really picking up. My headlamp hadn't been fully charged and was starting to fade out so I stopped to change the batteries which took some time. I quickly caught back up with the uni students and they asked me where the American was, I had assumed he was with them. We got to the next hut and took shelter in the toilets. We were in there for about 40 minutes before heading out again into the darkness. Just as we got out the American had just arrived with others. He wasn't looking too good, I told him to go have a rest and would see him later on. I didn't get to see him again after that, I assume that he decided to stay the night in one of the huts which was easily the smartest idea.
The climb was getting rough and steep in some sections, I noticed a couple of the girls had really casual footwear on but were leading the way. By this point wind was getting a bit dangerous, we made it to the next hut and ducked into the toilets where they decided to call it quits. Left with me was a young Scottish couple, the girl was really cold and were not happy with how all of this was unfolding. We did laugh at how absurd the situation was while the strong wind was howling outside. Eventually a couple of young Japanese guys arrived that were not coping well either.
The wind was shaking the toilet block when a Japanese man came in yelling at us to get out, he was one of the managers or workers of the huts. I told him that we needed to rest because it was too dangerous, he didn't care in the slightest, "get out, get out" he kept shouting. I yelled back that its too dangerous and we need to rest. He pushed me in my shoulder so I yelled at him to not touch me. Someone mentioned that the restaurant at the top of the mountain opens at 4am so I suggested we keep going up, ducking in the toilets at each hut until they kick us out and get to the top at 4am. The Scottish couple agreed and left while I packed up my things. The young German couple eventually arrived and told them what happened, they explained that the same thing happened to them at the previous hut. These people running the huts had absolutely no regard for anyone's safety, but the worse was yet to come from these people.
We made it to a couple of more huts with toilets to shelter in. I would usually make it first, then the Scottish couple followed by the German couple. Every now and then another climber would come in and leave again. We were in a toilet block when a Japanese climber entered, she almost collapsed so we held her up and sat her down while I took her pack off. Her two climbing friends came in to assist her and help her out. Once again one of the hut workers came in shouting at us to get out. We told him that this woman was in trouble, he looked at her and yelled at her to get outside (in the freezing rain and wind). I don't think I've ever seen such a disregard for human life like I saw from this group of people that run these huts.
We all left, I'm not sure what happened to the Japanese woman and her friends, I assume they paid to enter the main hut. The others were contemplating going into the huts, it was getting incredibly dangerous. I told them I was still going to make the ascent, the Scottish couple said that would too. I think the Germans decided to call it quits there as we didn't see them again.


There were no more toilet blocks to shelter in up the mountain so this was the final ascent. I could barely see in front of me, the heavy rain was horizontal and stinging my face. It was incredibly cold as I charged on ahead but trying to keep the Scottish couple in my sight via their flashlights. Water had started to trickle down my chest which felt like a pile of ice cubes. This was where I felt like I was in a bit of danger as the thought of hypothermia crossed my mind. I took a step up a ledge when a huge gust of wind almost shot me back over, I struggled to maintain my footing and ducked down to hold onto a rock. This happened more and more as I got closer to the top, the wind was unreal!
Heading back down the next morning I approached another climber, a Japanese man who was just standing in darkness on the trail. I yelled through the wind asking if he was OK but he just had a blank expression on his face. I couldn't do anything but to carry on up. I saw a few more lights up the mountain which was a relief to know I wasn't alone, I was keen to get up, it was past 4am so the restaurant should have been open. I kept on climbing and eventually made it. There were a small group of people who had also just arrived and asked me if I know where to go. They told me that nothing was open!
There were a few buildings around that were all closed up. The toilets had a padlock on them so we were completely exposed at the top of Mount Fuji where the conditions were the absolute worst. We found a small awning on a building to shelter under. I told them we have to get back down as it was too dangerous. A woman agreed but someone suggested that they might open at 5am. We waited and nothing happened. I stripped off some of my wet layers and chucked on my thin jumper. I was shaking so hard from the cold. The Scottish couple eventually arrived, I told them nothing was open and I was heading back down. The guy said that this was the hardest thing he's ever done in his life. I couldn't even respond at that point, celebrate or even feel good about what we had achieved, I just started jogging out onto the track down.
There was no sunrise to be seen with all of the cloud and rain but it did get light enough where I didn't have to use my flash light anymore. The trail down was different to the ascent, it was somewhat steep with volcanic gravel all the way down, it made it easy to jog most of the way. Not long into the jog down I was feeling warm again, a huge relief. I managed to get my GoPro out and film whatever I could. It definitely didn't compare to what we all went through on the climb up during the night.
At a small intersection on the trail I crossed paths with the uni students. They were coming back down from one of the huts. We all got a group photo, caught up and I kept jogging down. I also came across the Japanese guys I had met on the train, they didn't make it but were happy for me that I did. They were very funny and reminded me of some anime characters, just how animated they were and so funny and enthusiastic.