Tahiti – Not Just for Honeymoons and Weddings.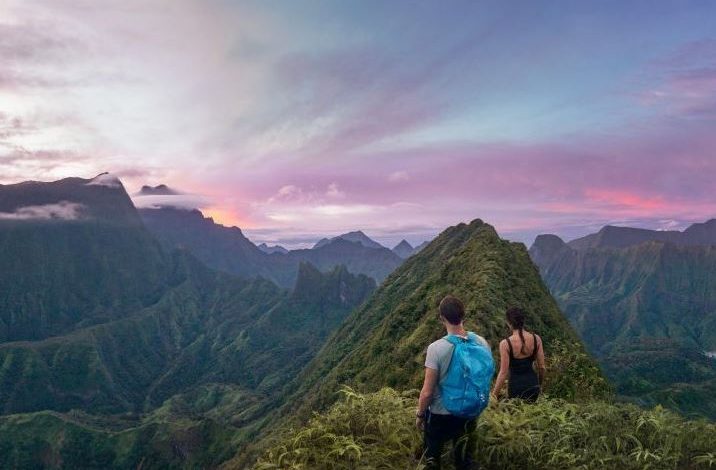 Tahiti is, without doubt, one of the most beautiful places on earth, the water, the beaches, the mountains, and the lagoons.
You can see why it is the quintessential place to get married or go on your getaway honeymoon.  However, it has the reputation of not only being beautiful, but expensive! Yet most destinations are expensive if you stay at costly places, but they don't have to be.
Ok, Tahiti is not Bali, but it does not need to break your bank balance either. There is a range of good priced yet beautifully located hotels, the is an ever-growing number of Air BnB homes, which when you look online are often beautifully situated and cost effective. Over the last ten years or so, there has been real growth in boutique smaller properties called ''pensions'', like a guesthouse. These are normally a family-run businesses many located in more secluded locations, where you can have a room, or a house, which often comes with a boat (for surfing, diving, fishing) and the family will also feed you. It is a full immersion experience that gives you a taste of the Tahitian lifestyle and local knowledge which if linked in with activities like surfing or diving that local knowledge is priceless.
Apart from romantic weddings and honeymoons, Tahiti is also seen as a lazy lay on the beach or by the pool with a cocktail, which you can do, but it has a lot more to offer: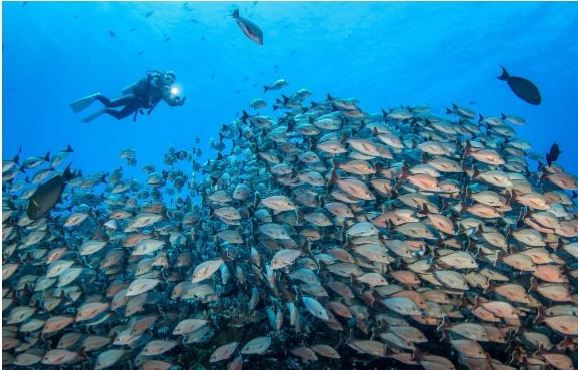 The DIVING in Tahiti is amazing, it is not known for its sponges and coral, say like Fiji, but it has a reputation for large pelagic fish, barracuda, sharks, stingrays, manta, even whales in the correct season. The water clarity is superb and of course, it's warm. Most of the islands offer some professional scuba experience, surprisingly some of the more remote islands like Fakarava offers Professional PADI dive operators simply because people will travel the extra distance because the diving is so good.
Hand in hand with quality scuba diving is FREEDIVING. With the growth of freediving worldwide, Tahiti has become a mecca for freedivers – as mentioned in the diving section there is a plethora of pelagic fish in Tahiti, all close to the reef edge and easily accessible. Spearfishing is a full-time occupation for many Tahitians, as fish is the prime source of portion. So, Tahitians know where all the best spearfishing places are, where to go on what tides and in what season seasons.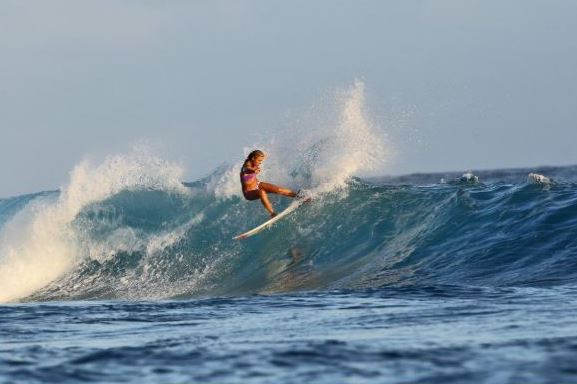 SURFING in Tahiti has a world reputation, but unfortunately to the masses, Tahiti is only known for Teahupoo the massive wave on Tahiti-Iti. There are numerous YouTube clips of Teahupoo and massive sets rolling in but don't let this put you off, there are only a handful of surfers who feel comfortable in these conditions. However, there is surf all over Tahiti, the main island, and the smaller islands. They are predominantly reef breaks, however, there are several beach breaks. Some of the reef breaks are within paddling distance of the shore, some not.  Staying at a pension is a great way to get into the local surfing scene, the family will take you out to the best reef – determine your ability and put you in the right spot to have the most fun. If not staying at the pension it pays to get a surf guide, there are many!
Tahiti is a 'paddle nation' on any given day on any lagoon you will see locals paddling, mostly va'a (same as our waka ama) or paddleboards and even sea kayaks. There are numerous places to hire from and a lot of the hotels offer free use of equipment. Some hire places do offer sea kayaks but it's not sea kayaking as we know it in New Zealand, there are options for sea kayaking excursions on the other islands.  Word to the wise if you are going to hire a paddleboard, kayak or a va'a, stay away from the surf and stay away from the pass in the lagoon (the gap in the reef). The tide rips out through these passes, on an outgoing tide and you would not be able to paddle against the amount of water heading out to sea, so where it goes you go!
Not all activities in Tahiti are on or in the water there are some breathtaking and historical sites and adventure that lie inland; Waterfalls, mountain peaks, lush valleys, and ancient ruins, there is a lot to be explored, on foot, HIKING.
There are guidebooks available, and most hotels will have an information desk you can ask or simply hunt online. But as always, it's best to get a guide. A lot of the tracks are hard to find, some you need a permit for and some on custom or private land. Most guides will offer a 4×4 option to get you to the right start point so that you can get the most out of your on-foot experience.  For a taste of what is available go to https://tahititourisme.com/en-us/tahiti-activities/outdoors/hiking-in-tahiti/
The paradigm that Tahiti is expensive and for weddings and honeymooners, is a concept of the past. There are affordable places to stay, to eat, and to fully experience what Tahiti and her islands has to offer.
A great place to start, to see what is available visit here https://tahititourisme.com/en-us/tahiti-activities/outdoors/.