Trending
Exploring the world's largest lagoon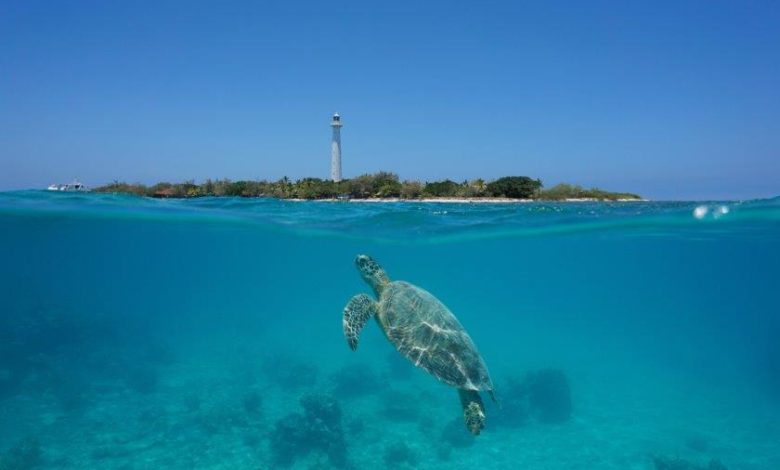 I'm sunning myself on the bow of a yacht, flickers of shade momentarily passing as the sail dances in light air. Rhythmic slaps of water on hull providing a meditative soundtrack. Dark circles move ahead of us in the water, the surface swirling and breaking as five adult humpbacks appear, encouraging their young to jump and dive. Their size dwarfs the yacht, a marine circus providing a spectacle you can only dream of. They're not fazed by us as they dive beneath the boat pausing momentarily to take a peak.
Humpbacks are the real show-stoppers in New Caledonia, where the lagoon dominates the landscape. This is one of the largest marine reserves in the world, and has been a World Heritage Site since 2008. It's also a nesting sites for illustrious turtle breeds, rare crab species, tropical seabirds and other marine wildlife. Welcome to David Attenborough country – I feel privileged to be here.
With a week on my itinerary, sailing is only the first of many lagoon adventures. I'm also booked for a jetski mission and lead myself into a false sense of security. I've seen the groups at home – tourists trailing behind the instructor in matching wetsuits and high-vis vests, motoring at half speed around the harbour. "This will be tame" I think.
The myths were quickly dispelled. A gruff looking Frenchman of solid build presents himself as our guide, two days of thick stubble and mirrored sunglasses making him look like Liam Neeson in the movie Taken.  His safety briefing consists of the words '"accelerator, no brake" and a few hand signals,  before he opens throttle and takes off through the channel, jumping wakes on the way.
A hundred metres behind, I fight to keep up, clinging onto the handlebars like wolverine and levitating from my seat with every bump. I try to ride standing so not to give myself a spinal realignment, but my puny legs don't have the quad-strength to cope. Crossing the lagoon is a full-body workout but I'm rewarded with sheltered waters, and a handful of giant sea turtles on the other side. I toast my wind-swept body in the sunshine and circumnavigate a tiny uninhabited island before jetting off to explore the reef behind Îlot Maître.
Once back on dry land, I spend the afternoon lazing around at Chateau Royal – the only resort in town that's right on the beachfront. It has an epic pool area complete with a swim up bar and boasts an indoor Aqua-tonic Pool where you can work out and do spin classes underwater. Bizarre concept, and I'm disappointed to have missed the last class of the day. For the macho men it's important to note, it's compulsory to the rock the speedo here – so if you don't want to fish a pair from the lost property then BYO.
Another must see attraction in Nouméa is the busy waterfront produce market where stall keepers sell piles of bluespine, unicornfish, prawns of every denomination, lobsters, green-fringed mussels, oysters, marlin, mahi-mahi, octopus and crab. I discover big, ruby-red chunks of glistening tuna piled at every other shop and make sure my plate is loaded with them at dinner.
Interestingly, after the stall keepers clean-up for the day, their water runoff leads into the Port Moselle marina. Those with keen eyes will spot shark cruising alongside the promenade waiting for an extra snack – although none big enough to chomp a limb.
When I'm not on the water or in it, I'm flying over it. From the seat of a tiny ultralight plane in Bourail, I take off over an intensely hued stretch of sea and sublime lenticular reef. I gaze over a lagoon that goes on for kilometres before finally breaking in toothpaste-white billows of surf onto the reef. It's a coral patchwork filled with every shade of blue, from azure to turquoise, so vivid and piercing it's as though a filter has been applied to the landscape.
Shadows haunt the lagoon below – slow moving shapes of turtles and rays seeking shelter in the shallow waters. And where the reef drops into deep ocean, fishing boats loll and are later are seen heaving under the weight of their catch.
Rumour has it that you can surf this western coast too. I'm booked for an afternoon at 'Secrets' – a perfect left-hander that's been compared to Macaronis in the Mentawais. Unfortunately I get a call saying it's too small today, curbing plans of long lefts and glassy barrels. The wetsuit and wax in my bag a constant weighing reminder of waves breaking and departing without me. Nonetheless, it'd be an epic destination for those keen to road-trip from Noumea. Manu Hernu, one of New Cal's best surfers runs guided boat expeditions here so fear of localism is disbanded.
As the week wraps up, I board a plane back to Auckland reflecting on parting words from my guide:  "Remember, nothing bad ever happens here. In the water, or on the beach. You just swim, explore, have a Number One beer and watch the sunset". C'est bon. It's all good.