The Lycian Way Ultramarathon – Turkey
The toughest multi-stage race I've ever done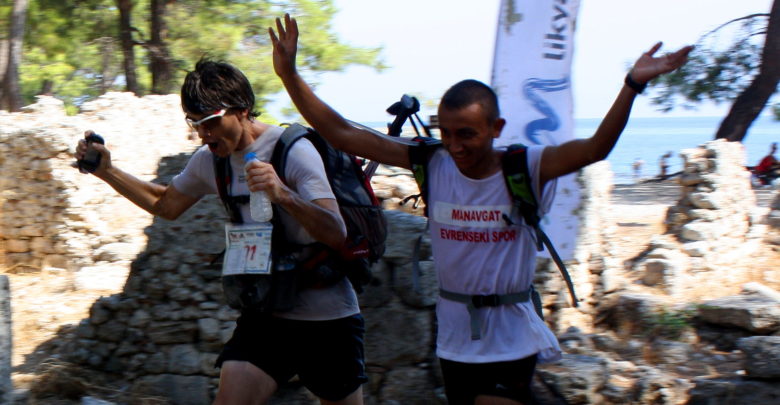 In 2012 I completed a crazy race that still remains the toughest race I've ever completed. The Lycian Way Ultramarathon was my first multi staged, self sufficient race. It's been seven years since the pain and suffering and I'm still slightly traumatised by it. Here is my original race report.
The Lycian Way Ultramarathon
There are many races around the globe that boast of their particular race the 'toughest' or most 'extreme' race in the world. Only a week ago I completed a little known multi stage Ultramarathon all the way over in Turkey that doesn't claim any of these titles, although it probably could.


The Lycian Way Ultramarathon is by far the toughest race I have ever done in my life and this was the same for many experienced ultra runners in our camp.
Just like most of the multi staged, self sufficient ultras around, this was a six stage, 240 km race with runners from around the world. It is run on parts of the ancient Lycian Way which has some of the most beautiful scenery I have ever seen along with ancient, historical ruins. When I read about the Lycian Way Ultramarathon I imagined running most of the race a nice wide open path way with a few hills and maybe temperatures of just below 30 degrees, looking back I was not only wrong about this, I was completely delusional. There were no 'nice' paths to run along. We had to climb up mountains, jump over from jagged rock to jagged rock along a shore line (the previous year a man lost his finger on the same rocks), navigate through forests with a GPS where at one point I was lost for almost an hour and also deal with the relentless heat and humidity which at times seemed like we were being cooked in a furnace. There were moments where I ran completely out of water while climbing up steep terrain and doing 15 – 20 minute kilometers. From the very beginning I knew I was out of my element and that all of my training was not enough to prepare me for what was ahead.
The first two days of the Ultramarathon were hard. First was a 36 km run, day two was a 46 km run. Usually for me these distances were nothing but in reality even just a few kilometers would be a nightmare to run (or attempt to run) on this kind of terrain. I got through the first two days the best that I could. My goal from the beginning was to get in the top 10 with a field of about 30-40 runners however after getting lost and off track so many times and not to mention almost injuring myself time and time again I had a new goal, just finish the race! People were dropping out of the race early, some would change over to the shorter races, the 6G or 4G where you can run each day for distances of about 10-20 km per day for either four or six days. These smaller races also had the luxury of not having to carry your own gear and get fed breakfast and dinner, probably the smarter option!
Day three seemed like it was going to be an easier day then the previous two, only 35 km and the terrain didn't look like it was going to be too harsh. Everyone was stunned when it came to this day, it turned out to be the the slowest 35 km run I have ever done, eight and a half hours! That works out to 14 minute kilometers, slower than walking. It wasn't because I was tired, quite the opposite, I had a lot of energy and was ready to finish this day as quick as I could. The climbs, the navigation, the terrain and the heat made it virtually impossible to run. Two of my new friends, Kim van Kets and Mark Ashley Adams, both from South Africa almost didn't make the cut off time only finishing with a few minutes to spare. Kim is a very experienced and well respected Ultramarathon runner, she admitted that this is the first and only physical challenge that has reduced her to tears!
We were all relieved to hear that the forth day was a short one at only 11 km. We still expected it to be tough but at least it would be relatively quicker than the previous days. On day three I spent the day running with another new friend of mine, Tomas Sundman, who had recently finished 20 years in the army. I decided to stick with Tomas as he had been getting good times on the previous days as well as never getting lost, he also ran at a pace that I was used to (when we could actually run). On this day however he wasn't feeling too well and had to sit and rest under some shade. I didn't like to leave him but I needed this day to be over so I could rest for as long as possible before starting the very long day. Even though it was another hot one with rugged and steep terrain I finished full of energy and a smile on my face. I also had a full 24 hours to rest before starting on what was to be a mammoth 90 km run.
The long day started in the afternoon, the slower runners at 12.30pm, then the faster runners at 3pm and then the elite which consisted of mostly Turkish runners at 6pm. I was in the 3pm group which suited me just fine as it would be starting to get cooler by then and we still had a few hours of daylight. Again I stuck with Tomas for the entire day (and night), the first 30 km were fantastic! We were actually able to run on a road, it was a rough dirt road, but nonetheless a road! There was also a nice cool breeze with made things even better. We were quite high above sea level and once we got to the peak we had to run down, we were almost at the bottom as the sun was setting when all of a sudden it became extremely humid and warm. It took only a couple of minutes before both Tomas and I looked as if we had a bucket of water thrown over us. To make things worse we then had a 25 km beach run on a soft, sandy and sometimes stoney beach. We were trekking along the beach around midnight, Tomas ended up falling in some water when we tried to jump over it (which I found quite funny and would keep laughing throughout the night), I got my left foot completely soaked but by this point we didn't care, we just kept going. Both of us finished together and everyone in the camp looked completely worn out. The only thing we were happy about was that the next day was the final day of this grueling race!
My friend Jacob (Jacob Juul Hastrup) and I agreed that we had to finish the final day with nothing left in the tank, we had to give it our all and that's exactly what I did! I looked at the weeks results, I was in 11th place overall, there were only 6 minutes between me and 10th. The top 10 goal was still within my reach but I would have to work extremely hard to get it. For 25 km, six minutes is a big gap but I was confident I could get it. I started out strong with the lead pack and stayed with them for a few km, we got to an area of sand where I over took them. The top two racers were ahead of me but I wasn't focused on keeping up with them, I just needed a six minute lead in front of the rest. I pushed myself to run faster than I had been in the previous days, I would walk up fast on the big inclines and then speed down the declines. I could feel that my left knee was hurting after twisting it a couple of times but I couldn't worry about that. Eventually I ended up catching up and passing one of the lead guys. I knew I was coming in second but kept imagining someone was right behind me. Sweat was pouring off my head, over my sunglasses, I kept pushing. There was a 4G runner who I decided to keep up with, he had lots of energy left which was great for me as I used him as a pacer. We were running strong and knew we had to be close to the
finish line, we could hear the sounds of drums and cheering, I started laughing knowing that this insane race was at an end. I powered through the finish with a big smile and hands raised and emotions high. No one came over the finish line for almost 15 minutes after me, I had not only completed the race but also achieved my goal with a top 10 position in a race I was completely unfamiliar with and under prepared for. I actually gained two places that day into 9th place!
I waited around for my friends to finish, first Tomas and Jacob and then Kim and Mark. Each of us celebrated with a cold can of Coca Cola, something we had all been craving and talking about throughout the race. I thought that I had pushed my body to the limits in the past but this race tested them even more. In retrospect, as hard as this race was it was one hell of an adventure that I will never forget. It has changed the way I think when racing, it has also made me more humble. However the best thing that has come out of this race is the new family I have made fondly called our 'tent family'. I look forward to running with them for years to come.
I don't know if I would ever do this race again but I would definitely recommend it to anyone that loves these types of races, especially to anyone that craves a challenge. Everything about this race is incredible.