Oman – be thirsty for Adventure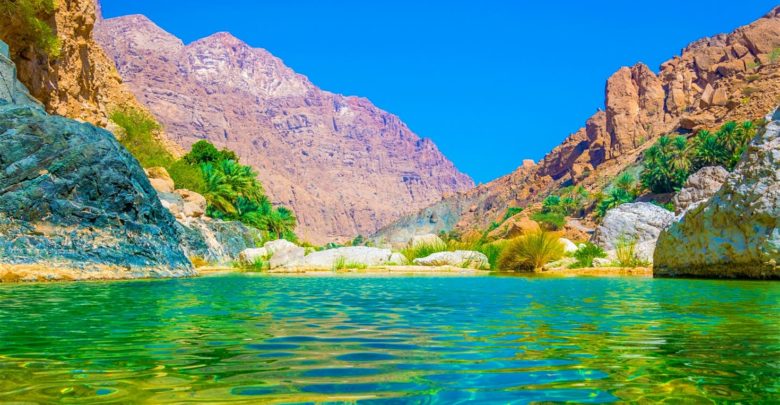 You don't have to be particularly clever to know that without water there is no life. Nor do you have to be a genius to recognise the effect that water has on the landscape. Like green fireworks exploding at a geological pace, the oases of palms and vegetation across Oman signify a welcome water source and for millennia around these eruptions of colour, villages and towns have more than just held on for dear life, they've thrived.

The secret to this success is the complete mastery of water driven mainly by an ancient system of flowing 'falaj' irrigation channels developed around 500AD, enabling Omani villages to thrive and create comfortable living environments.
Dating back to AD 500 and now on UNESCO's World Heritage register, these remarkable systems use gravity to channel water from underground sources or springs to support agriculture and domestic use, with sundails used to manage the distribution.
For thousands of years, every available drop of water has been harvested and harnessed for agriculture and survival right across this country. The local economy today is fuelled by dams, modern irrigation practices and even fog harvesting schemes. But the ancient waterways, riverbeds, springs and canyons are now sustaining an altogether different economy – Tourism. And if you're thirsty for adventure, it's just the ticket.

Right across Oman, particularly in the mountainous, rocky regions, adventure seekers are exploring these water sources and courses, finding places rarely visited by anyone.
Oman's deep, rocky gullies, carved out by seasonal floodwaters over millennia, are known locally as wadis. These vital places might, depending on the season, be dry river beds perfect for a 4WD adventure, fast flowing canyons fed by springs bubbling directly from the rock face, or tranquil emerald-green pools ideal for an unforgettable swim, even a picnic.
In the height of summer, wadis offer shade and a cool breeze. Accessible ones, such as Wadi Shab near Sur, are lush with palms and dotted with enticing freshwater pools, perfect for a dip. The rugged and scenic Wadi Bani Awf in the Western Hajar has exhilarating trails. The best-known wadi in the region is Wadi bani Khalid whose stream feeds a constant, year-round flow of cooling water for swimmers.
But gaze up at the Hajar Mountains from Muscat, and you might wonder what is up there. The crumpled landscape is now a hot-spot for adventurers. Daubed in shades of russet and mauve, they may look barren from a distance, but waterfalls and springs keep their cooler slopes and valleys fertile.
The highest range is called Jebel Akhdar – Green Mountains – after its alpine juniper woodlands. Jebel Shams – Sun Mountain – the country's loftiest peak, offers spectacular views of the Wadi Nakr and Wadi Ghul canyons. To experience this region at its best, leave the tarmac behind and tackle steep, challenging tracks through charming mountain villages planted with pomegranates and roses.
Someone who knows more than most about these special places is Dr. Khaled Abdul Malak – a Muscat-based photographer and dentist – who you'll often find, when not working on the cracks and canyons of a patient's mouth, exploring the wadis and gorges of Oman. Dr. Malak knows better than anyone just where to look for wonderful, unexplored places, and recently revealed a few of his favourite Omani expeditions.
Wadi Taab: A steep, ancient trail leads to the abandoned hamlet of Taab with its superb gardens and houses built in the cliffs. After 20 mins of bouldering we reached a place where we set up the rope at the first drop of some 50m and abseiled down to a massive cauldron. A second abseil of around 40m ends in a vast, cooling pool at the far end of which flows a gushing spring from the base of the cliff, offering a refreshing drink.

Along the watercourse many waterfalls, the final one requiring a descent of 15m to a pool more than 100m in length. The trail exits not far from the end of this pond.
Wadi Kamah: This overnight journey starts on a donkey trail from the village of Daan Al Hamra in Jabal Akhdar leading to the wadi bed, ending in Kamah between Tanuf and Nizwa.
The initial stages are quite easy, climbing down a number short drops and some bouldering before reaching the first big descent of 45m.
Ninety minutes on, things get serious at the edge of a superb 150m waterfall. The descent requires a series of 4 drops and leads to a pleasant rest stop by a natural spring. A final 50m drop leads to the foot of a giant rock formation and small refreshing pool, the ideal spot to spend the cool night by a crackling fire.
An early start leads to another spring that offers refreshing water refills for the final stretches of the journey past stunning rocks, waterfalls and natural pools with the clearest water imaginable.
A final few manageable drops lead to another refreshing pool, the perfect place for lunch near the abandoned hamlet of Taht al Sinn.
As the journey ends, the wadi bed runs dry before reappearing only where the falaj system feeds the village of Kamah.
Aaqabat Al Biyout to Wadi Tanuf: An early start will get you underway before the heat of the day sets in. The trail at times is difficult to distinguish, with careful steps required on unstable terrain.
A walk of 3 hours brings you to the village of Al Ghafar. After a short break here in the shade of a huge boulder is recommended before continuing through the canyon to the top of Mutrah al Nibane, a waterfall that drops to the bed of wadi Al Hijri 120m below.
The first quarter of the required abseil is conventional, with the final 90m being a dramatic overhang, your feet touching nothing until you reach the bottom.
The scenery is breathtaking as you descend like a bird gliding beside a superb green slope covered in moss and ferns. The occasional droplet of water provides welcome refreshment as the sun rises higher in the sky.
The trek out takes roughly another 3 hours.
Whilst clearly an intrepid activity, Oman's wadis can be explored with much less physical effort.
For all of Oman's modern transport conveniences, many visitors still hanker to explore the ungraded roads that traverse the country's jagged mountain trails and defy the rugged terrain including rushing wadis and unremitting sand dunes that curl and rise into infinity.
Off-road motoring is one of Oman's fastest growing adventure sports, and throughout the Sultanate there are opportunities aplenty for travellers to hit the dirt, water and dunes. And never is off-road driving more popular than when the wadis are awash with lush vegetation and rushing waters after the heavy rains.
"Having superior off-road driving skills is vital, so travellers should consider hiring experienced drivers through tour companies and hotels when they want to embark on a wadi bash or drive up to Jebel Akhdar highlands," says Mona Tannous, Country Manager Australia/New Zealand – Sultanate of Oman Tourism.
"The highlands, northeast of Nizwa, have a Mediterranean-style climate that is perfect for growing sweet-scented roses. First introduced by Persian settlers, they are now widely cultivated, filling the air with fragrance when they burst into bloom in April and May. The petals are plucked by hand in the cool of the morning, then boiled to produce a vapour which condenses into the finest rosewater.
"For hundreds of years the Omani people have used water to transform the landscape. Yet as you explore the mountain-rose villages of Jebel Akhdar you see that they also use the landscape to transform the water into something magical – rosewater. Oman is one place where, regardless of how you explore it, you simply must stop and literally, well, smell the roses."