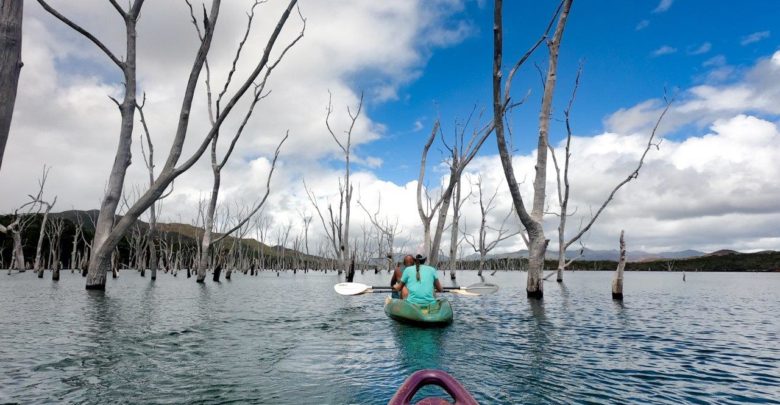 I was expecting brochure beaches and coconut daiquiris and instead got high octane adrenaline on land, air and sea. Luckily for me, the balance between decadence and danger in New Caledonia was exactly what my idea of the perfect break should be.
THE HIGHLIGHTS:
An Ultralight Flight in Bourail
Beating through long grass in our 4WD, we sight tiny planes and an impressive lagoon. Our pilot Fabien is ex-military and former paratrooper. I'm not sure whether I should be concerned by his love of emergency exits or be impressed by his history in aviation.
He promptly asks whether I'd like to remove the door of the plane for better views and freedom for photography. I'm keen, and he fits me with a life jacket. A stark contrast to the traditional in-flight safety demonstrations.
I use the plane's wheel as a step, climbing into the cockpit before strapping my camera into my harness. Fabien joins me for a selfie before blasting full-speed down the runway. The wind presents a tornado, ripping through the cockpit and promptly transforms my hair into a wind-whipped dreadlock. Flying without doors is total liberation!
In a moment of madness beyond fear, I lean beyond the cockpit to capture images of reef plummeting into the deep-blue. Silhouettes of stingray and turtles decorate the canvas below.
4WD the Deva Domain
We 4-wheel drive alongside rivers and dense tropical forest before the road becomes impassable. Guavas hang low from laden trees and we feast on the roadside before transferring to quad bikes. Hands still sticky from the feast, I can't help but cling to Emeric as he doubles me to the summit. Fearing the muddy steep roads and thoughts of bouncing off the back I probably crush the poor guy – but he approaches the situation with kindness and humor.
At the top we look over valleys passed down between three generations, rivers carving path between mountains and ocean. Emeric runs camping adventures here, providing all tents, food and transportation. When he's not running Gecko Evasion, he camps here anyway – the views providing clear scope for deer stalking.
Cultural Adventures on the Isle of Pine
Isle of Pines is famed for its tropical landscapes, but the heart of this experience is in the people and culture.
What you don't see advertised is the local Kanak culture – where you wave, stop your car and chat to every person in the street. They're all referred to as your brother, your sister, your aunty… humble, quiet but so full of warmth. Where the community lives happily without power and free from the addictions of modern technology.
The traditional method of cooking is with steam and hot stones in an earth oven. Walking into a garden that swirling with smoke from the Bougna, a delicious smell of earth, wood-smoke and roasting vegetables greet us. The food is fresh from their gardens, the chicken was walking the night before.  Once appetites are appeased, we sail Upi Bay on traditional outriggers whilst taking in the scenery.
Kayak the Dead Forest – Blue River Park
Blue River Provincial Park is an example of what can be achieved when the surrounding mountains are reclaimed from the mining community. The effects of mining are still present in the region however some developments have enhanced the tourism potential such as the construction of Yaté Dam in 1958. By flooding the surrounding plains to create a reservoir, you'll now find Lake Yaté, New Caledonia's largest lake with a surface area of 40 km2.
Amid this flooding lies a drowned forest, dead trees glowing like ghosts against the rust-colored backdrop. You can kayak the forest during the day time, or occasionally under a full moon. The combination of lake, red earth and forest provides a kaleidoscope of colour that's unique to New Caledonia.
Explore the forests surrounding Mount Koghi
Koghi is named after the native trees throughout the park. Located so close to the capital city of Noumea, I was surprised to learn that 90% of the plants are endemic. Most of the trails here are considered 'local only' as they are unmarked, unpaved and navigated by know-how. Our guide Axelle lives in these mountains and allowed us a short adventure in her backyard – just 30 minutes each way to the waterfall.
She encourages us to drink from the waterfall, pure rainwater… I take it one step further, cooling off in the crystal pool below. Not cold enough to render you breathless, but refreshing after the humidity…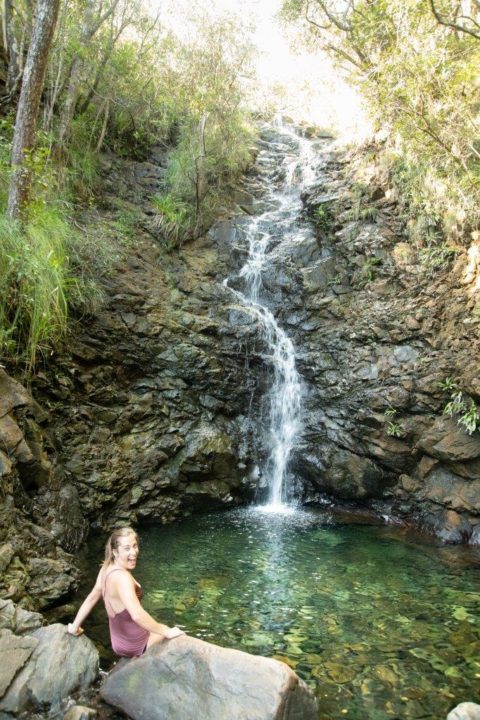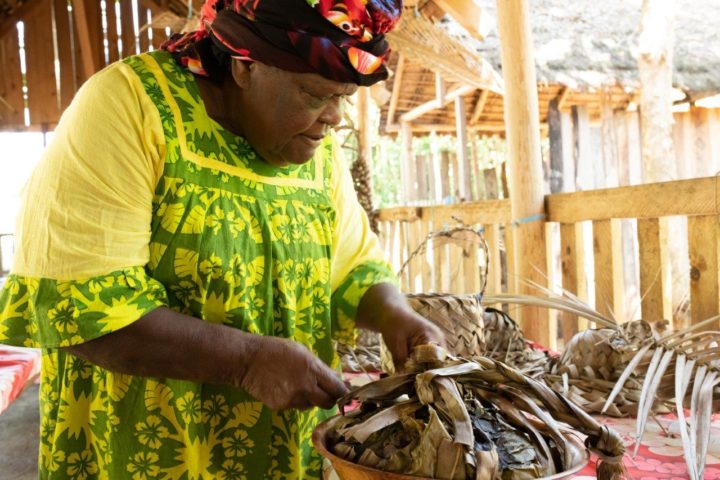 Jetskiing in Noumea
My preconceived ideas of jet skiing in Noumea were wildly wrong. Pulling on a wetsuit at base, I felt like a dork and tied string to my sunglasses for fear of losing them. I was imagining a slow meander through the lagoon, following behind a guide and looking for turtles. However very quickly I knew this was… outrageous adventure.
Our guide was the French equivalent of a hardy south-island farming type. Strong build, gruff face and a man of a few words. He was also a demon behind "the wheel", fully opening the throttle as soon as we were clear of the channel. I struggled to follow suit, bouncing over the wind-chop at such high speeds I was practically levitating. Clinging on like wolverine my whole body received a workout before arriving at a private island for some rest and relaxation. Yes! I was still treated with the brochure beach in the end.
FACTBOX
Trip thanks to New Caledonia Tourism
Air Calin [international] & Air Calédonie [domestic]
Cap ULM Poé – Ultralight Flight
Sheraton Deva New Caledonia Golf & Spa Resort
Gecko Evasion – 4WD Deva Domain
Toutazimut – guided tour of Blue River Park, and Mount Koghi
Locajet – Noumea Jetskiing