New Caledonia ShortBreak v1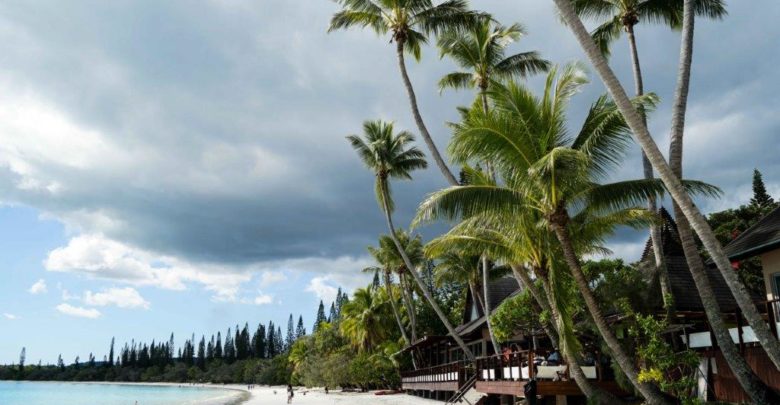 The light sticks to the mountainside as we weave deeper into the valley. It's like we're magnetized, lured by the metals lying just below the surface. Miners made camp here in the 1950s, but now it is reforestation efforts contrasting the ochre soil that hold our gaze in the Blue River Forest Park. The scenery is from a motion-picture spectacular, preserved for viewing only when tickets allow. My ticket gives entry for just one day to glimpse rivers that you can drink from, earth that stains your fingers, and a bird that barks like a dog but cannot fly.
We're shown around the park by Axelle Battie from Toutazimut – a guiding operator in the region. I relish her stories of long distance hiking trails that cross the south of Grande Terre via pinnacles and peaks of the central mountain chain. An environment so different to hiking in NZ… much of the trails here are unmarked, unpaved and depends on locals to help navigate courses in unfamiliar territory. The locals New Caledonians are often hesitant to mark advanced trail-heads as the steep influx of cruise tourism has led to many tackling trails beyond their means.
For us though, it's sleeves rolled up, charging through the forest after Axelle in order to pack everything into one day. Hiking, kayaking the drowned forest, and topping it off with beers and baguettes by the river. We see mountain bikers emerging from black trail missions with mud splattered faces and tales of near misses. There's adventures for everyone in this park and I vow to come back for extended camping exploration.
Arriving back at the Chateau Royal Beach Resort & Spa, I feast on fresh fillets of mahi-mahi before falling asleep with the abruptness of someone shot with sedatives. The adventures of the day thoroughly draining me of any reserves.
Luckily the following morning brings relaxation on the Isle of Pines. We're picked up from the airport by Zarena Vama, a local Kanak with the biggest family in the world. As she drives us around she toots and waves to every local we drive past, giggling to herself. "That's my cousin" she would tell me, and before them it was her uncle. "I know everyone who lives on the island" she states, and it seems they're all related in some form. Whether it's biological or not I cannot tell but the system of family here is so deeply engrained in the culture that I wonder what the rules are for marrying.
It's a traditional way of life so strongly guarded that only islanders can buy land and non-islanders would need to be invited to live with a local family or marry if they intended to stay long term. I kinda like it. The sense of connection and accountability that comes with this lifestyle means everybody's looking out for one another. Subsistence living and unity as opposed to struggling to keep up with the Joneses.
We stop in to see her sister who's busy cooking the bougna – a meal cooked in an earth oven, much like the hangi is in New Zealand. Wood smoke creates a haze in the garden, swirling in front of a kaleidoscope of flowers. This Melanesian scene feels like I've not yet woken from that deep sleep. I wander through the garden unsure how to navigate this interaction as French words bounce beyond my reach.
To avoid a battlefield of cultural faux pas, I perch quietly on a charcoal stump and take photos while the women pour their sweat and energy into the land. Digging, uncovering and preparing what will soon be a feast cooked by steam and soil. A man looks on, leaning lazily on a shovel and smoking homegrown tobacco instead of helping. His part of the work was done hours ago, digging the pit and now the women must prepare the food. His gruff demeanour is relatable in any culture – quiet but staunch authority that makes you work harder to impress them. I'm fighting a losing battle…
Finally, the bougna is presented. A neat parcel swaddled like newborn in a cloak of banana leaves. Kasava, sweet potato, banana, chicken… the combination of smells makes me salivate.
I eat until I can barely move, then spend ten minutes lying in the shade listening to the "song of the pine trees" which apparently sound like distant waterfalls as their branches move in the wind. The soundtrack continues as we move to Upi Bay and check out the pirogues, outrigger sailboats crafted from native pine. "Isle des Pins is one of the islands that has maintained the building of the pirogue traditionally, so showing this to visitors is a must. They're been made forever by our ancestors and we continue this tradition without the need for machines" states Zarena matter-of-factly.
Unfortunately the wind is on island time and fails to arrive at the party. We settle for the rhythmic chug of an ancient five horse-power engine instead, crawling against the tide up the bay. I lean, cross-legged against the mast in the sunshine and take another moment to close my eyes. Heckling begins from my friend Anendra Singh who thinks I've fallen asleep again. But the lapping of water and song of the pines just ease me into a meditative state. We weave through top-heavy islands, towering rock structures that float like mushrooms above the waterline. Turtles loll in the shallows, unphased by our arrival.
Suddenly, the afternoon tropical downpour arrives and baptises us on the beachfront. We abandon further plans for exploring the romantic ruins of an old prison overgrown with papaya, and settle for a cocktail at Kuto Bay instead. We watch the sun set over a departing cruise ship and give thanks for being allowed another day in New Caledonia.
………….
FACTBOX
Ocean travelled on behalf of New Caledonia Tourism and Air Calin.
Domestic flight to Isle of Pine provided by Air Calédonie
Accommodation in Noumea courtesy of Chateau Royal Beach Resort & Spa
Guided by Axelle Battie from Toutazimut in Blue River Park
Blue River park is open every day except Mondays. From 7am to 5pm
Cost for Adults is XPF600/pax – under $10 NZD