Trending
Greenland Dreams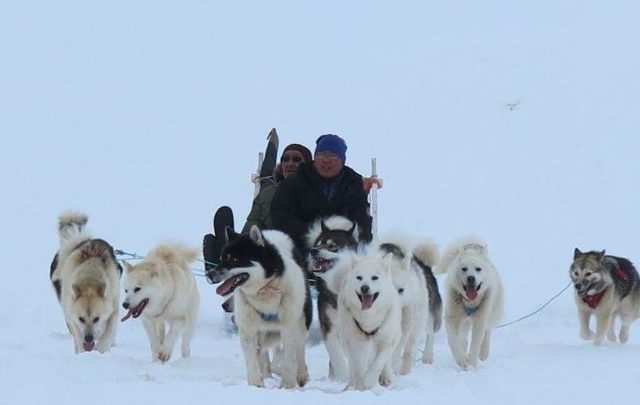 I watched, a little confused and not really registering what I was seeing, as one of our huskies was swimming in a pool of ice and water while our dog sled sped past. Our driver carefully yanked on the rope to the dog as it came tight, and it was dragged out of the hole, did a quick shake, and ran past us to catch up to the other dogs and carry on pulling the sled. As my eyes followed him forward I noticed 3 more dogs swimming across a stretch of water, then our sled dropped into the icy water. I half jumped off to push, but quickly retreated as I sunk to my thigh in the cold arctic water. Just as I retreated, the other 12 dog leashes came tight and they yanked us forward and up out of the water as we accelerated again. Unfortunately my ski boot was full of cold water……..
We were in a remote corner of East Greenland, about 30km from Kulusuk, the 200 person town that contains the region's airport, and another 30km from our destination, Kuummiut. It's March and things should be cold and frozen, but the sea ice is warm and wet making for slow progress. Lake Hawea's Jo Sedon, Anna Cook, Dave McFall and I were loaded up with two weeks food, skis and touring gear with an adventurous plan to explore the skiing the region had to offer.
We pulled into Kuummiut cold and stiff after 8.5 hrs on the sleds. Twice as long as the usual trip. But it was an amazing day spent with dogs, quietly traveling across the frozen ocean, past seal holes, locked in ice bergs and outrageous ski lines. As we pulled into Kuummiut the kids came out to see us and we moved into the town's community house. It housed the town's showers and laundry-mat during the day, and had a four bunk room for us to use.
The next morning, in light rain, we set off up the mountain behind town. The views were amazing as some of the sea remains unfrozen here in the small fishing village and we could look out at water, sea ice and mountains for as far as we could see. After gaining some height the rain turned to snow and we climbed to about 800m, boot packing up a final steep headwall where there used to be a glacier. Skins off, skis on and we're turning our way down some peaceful slopes back into town….
We met Siggi that afternoon, our local guy who was helping with logistics. He'd organised the dog teams and was going to take us up to Tasiilaq Mountain Hut via skidoo where we planned to spend a week touring. Tasiilaq has 12 bunks and sits on the edge of a massive glacier, high above the Tasiilaq Fiord. But conditions were still warm, so he suggested we stay another day in Kuummiut, which was fine with us as we were keen on more touring above town.
Siggi turned up early the following morning with his friend and two skidoos with trailers to take us the 45-50km to the hut. It was much faster than the dog sleds, but there had been almost no snow all winter so we had to skin up a few steeper sections to lighten the skidoos. We got to a glacier and Siggi was keen to take us up as high as possible, so we could ski down which was pretty unique.
Not long later we were making our way down next to a flowing river on top of the ice, looking for a route across when our skidoo rapidly sunk into the snow. We were stuck. I stepped off to push but went up to my knees in water, under the 10-15cm thick snow surface. A crawling technique seemed to work, to stay on top of the snow so we could rig up a rope to the other skidoo. But that quickly sunk too. 8-10hrs walk from Kuummiut, we waited for the guys to tell us the plan. But Siggi just stood there on his skidoo mumbling in Icelandic, Greenlandic, or English. It was pretty obvious there was no plan.
So we grabbed our crevasse rescue ropes, pulleys and prussiks, and rigged up a '12 to 1' crevasse rescue system and slowly pulled the skidoo out of it's wet pit. It took two hours, but we eventually managed to drag it onto the snow surface again. We then managed to tow out the second skidoo, and were back on our way.
Speeding down the frozen fiord was spectacular with amazing views of hundreds of amazing looking mountains. We kept expecting to see polar bears wandering the ice, and had even rented a gun in case we encountered one (apparently if you do see one, they will eat you). But Siggi ensured us we'd not be so lucky as the locals had only seen one in the past year and had tried to hunt it. Good news, the bear evaded them. The region seems to have a quota system of 30 bears a year. None of us wanted to see one hurt, and Siggi didn't seem to understand why….
We arrived at the hut at 750m above sea level and settled in. Siggi mumbled something about popping back later in the week and was off back down the glacier. There was a kerosene heater, propane cooking and a comfortable bunk room. After settling in we decided we should go for a quick tour and set off across the glacier for a run that we dubbed 'Sunset Bowl'. Boot deep powder and a nice 500m run back to the glacier, then a quick skin back in the dark to cook dinner and sip single malt in the warmth of the hut.
The next day it stormed, gale force winds and sleet, but by evening the winds eased dropping 30-40cms of light dry powder overnight, with no wind at all. The next four days were spent exploring the glaciers around, above and below the hut. Epic turns, sweet views and good company. The size, beauty and the serenity of the area blew us all away. Late on day four, just after we got back to the hut, true to his word, Siggi turned up on his skidoo with 3 fresh salmon he'd caught for our dinner.
Things had gotten much colder with the new snow and the fiords had frozen hard again, so it was with relative ease that we retraced our steps back to Kulusuk for our flight home…… What an awesome experience. A Greenland dream had become a reality.
Mark Sedon, www.kiwiskiguide.com
Mark Sedon (c)
Words: 1100